About Gwyneth Anne Freedman
Formal Background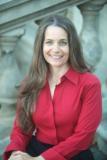 Gwyneth Anne Freedman, founder of Personal Journey Coaching, has 20+ years of professional experience. Her career coaching business focuses on corporate employees.  She has coached executives to increase their leadership skills, expand their communication style, manage their time, and develop and communicate their longer term vision. She's coached technical employees to enhance their communication and time management skills.  Her mid-level management clients often want to increase their scope of knowledge and thinking, from department centric to division or even company-wide focus.
Gwyneth Anne is a Professional Certified Coach (PCC – issued by International Coach Federation), Coach U Certified Graduate (CUCG) and a member of International Coach Federation (ICF), and previously served on the Board of Directors of Silicon Valley Coach Federation (now called ICF San Francisco Bay Area Coaches).  She graduated from UC Santa Barbara with dual degrees in Psychology and Sociology, is a certified Career and Diversity Trainer and is certified to teach Zinger-Miller's Frontline Leadership program.
Gwyneth Anne has more than 20 years experience including living overseas, working in large, medium and small, start-up level companies in Silicon Valley in Human Resources management positions including at the director level. Her industry experience includes defense, information, semiconductor and internet security.
For recreation she enjoys working out, hiking, reading, domestic and international travel, speaking French, a nice large strong cup of Peet's coffee and practicing martial arts.
On a more personal note, Gwyneth Anne Freedman …
* is curious about and respects all cultures, and hence enjoys cross cultural coaching
* believes we are all equal and enjoys learning from diverse perspectives
* believes in continuously learning, growing and expanding the 'comfort zone'
* has a passion for creating 'aha' experiences for both her clients and herself
Mission
To provide the support, perspective and structure that enable clients to break habits and change perspectives that are no longer supporting them, and act as a catalyst to shift and create new perspectives and habits opening new options for them to realize their goals and ideal life.
Client Testimonial: "Gwyneth Anne has the ability to put you at ease by creating an environment that is positive, creative, safe, supportive and fun.  Through her coaching I have learned to take chances, network successfully with individuals who can help me in achieving my goals while pointing me in the right direction, and to be much more confident in my own abilities."
Copyright © 2002 – 2018 Personal Journey Coaching. All rights reserved